2Bobs, a podcast hosted by David C. Baker and Blair Enns, is a must-listen for consultants.
In a recent episode titled "Communication Components in Your Sales Toolbox," they discussed the role your website plays in the sales process.
As the "websites for consultants" guy, I'm excited when I hear thought leaders talk about consulting websites.
Below is a summary of what they discuss about how consulting websites relate to the sales process.
First, note that they are discussing your website as a part of your sales toolbox.
Yes, that's right; your consulting website is a sales tool.
It can — and should — help you generate sales.
David poses the question:
"Why, for goodness sake, does it take 11 months to get this right? Maybe it doesn't need to."
Consultants really struggle with their website.
NOTE: If you want to write, design, and launch your lead-generating and sales-friendly consulting website this weekend instead of in 11 months, I built my Consulting Website Template Kit for you.
Here are some questions your prospects are wondering about you during the sales process: questions that you should answer on your website:
"Is there a fit from their point of view?
"Can you do this?"
"Have you done it before?"
"For whom have you done it before?"
"Who have you worked for before?"
"What's your point of view on how this should be done?"
"How good could this be? If I hired this firm, what are the possibilities?"
Different clients are drawn to different things about you or your firm.
Some clients are drawn to your testimonials.
Some clients are drawn to your process.
Some clients are drawn to the fine print.
Point prospects to specific links on your website that might interest them. Let them explore.
When done right, your website positions you as an expert. It generates inbound inquiries. It helps you gain power in the relationship.
People who are more junior on the power ladder are more likely to spend time on your website than a senior person.
Blair tells a story about how David showcased a visual that explained his Total Business Review. Everyone's jaw dropped. A beautiful, simple visual can be enough for a client to hire you on the spot. It shows you know what you're doing.
Use your consulting website to show how good things can be for your clients. Your case studies and testimonials do this best.
"I laughed. I cried. I brought up through my nose. It was much better than cats. I'm going to see it again and again."
These little movie review blurbs, book blurbs, those belong on your website to get people thinking about how good things could be."
Check out the "Website + Marketing" section of this lovely graphic that summarizes the episode: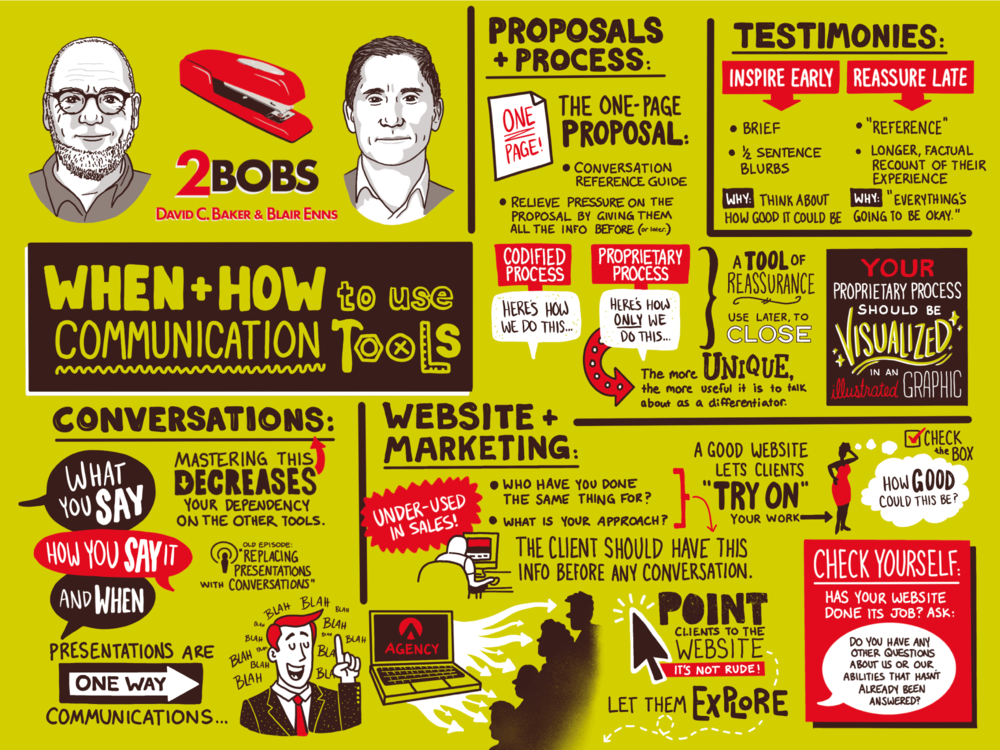 Notice the red blurb: your consulting website is under-used in your sales process.
If you want to make the sales process easier and get more clients, use your consulting website to help you.